Primary Care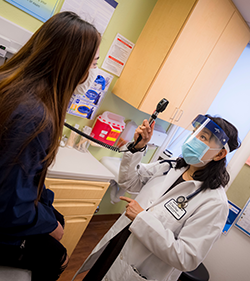 All students, regardless of insurance, can establish care with a UCSD Student Health primary care provider (PCP). Your PCP will oversee your health needs and concerns while you attend UCSD. Those with UC SHIP insurance are strongly recommended to select a UCSD Student Health PCP as UCSD Student Health Services will be the main site to receive medical care and obtain referrals.
Profiles of our physicians and nurse practitioners are available for review. Your PCP can be assigned at the time of your initial visit. If you wish to choose or change your PCP, contact SHS at 858-534-3300 or through Ask-a-Nurse on MyStudentChart.
Primary Care Providers
Students with SHIP insurance have the option of having a Primary Care Provider (PCP) for their care at Student Health. Your PCP can be assigned at the time of your initial visit. If you wish to choose or change your PCP, please call your group and speak to the scheduler or you can make a request through ASK A NURSE in MyStudentChart, please see Medical Teams for profiles of our physician and nurse practitioner staff. Each PCP is assigned to one of 4 groups. If you do not have SHIP and do not have a Student Health PCP, you can be scheduled to see any provider you wish or any provider who is available.
Making an Appointment
Once you have a Primary Care Provider, you can schedule appointments by calling your provider's group directly. If your provider is not available, every effort will be made to schedule a visit with another provider from the same group. 
For each appointment, please allow at least one hour at the SHS clinic for check in, visit with provider, any labs, x-rays, additional testing, or to obtain pharmacy items.
It is usually in the patient's best interest to stay with one health provider. Our providers will make referrals to outside specialists when appropriate.
General office visits are appropriate for most conditions. Routine annual gynecological exams, physicals, and complex medical concerns may require a longer appointment. ​
Same-day appointments are available for more urgent problems. Call your provider group early in the day for best availability.
Urgent Care services are available on a walk-in basis, but should be reserved for very urgent conditions. Patient will be seen in the order of the severity of their illness and wait times may vary. If you are not sure if Urgent Care is appropriate, call your provider's group for advice. Additional fees apply to Urgent Care visits for all students.
Administrative physical exams for employment, DMV, diving, or school applications should be scheduled with your Primary Care Provider. These exams require longer appointments and additional fees apply.
Education Abroad and General Travel appointments are available. Please call your group to schedule an appointment, make sure to give the name of the program and the country to which you are traveling as different countries require different types of travel visits, additional fees apply. 
Refer to the Cost of Services page for fee schedules.
After Hours Nurse Advice Line
An after Hours Nurse Advice Line available. Any time Student Health Services is closed, you can call our regular telephone number 858-534-3300 and select the option "after hours advice" to speak with a registered nurse who will assist you in obtaining the appropriate care.