Optometry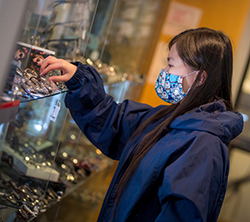 SHS Optometry is open to all registered UC San Diego students by appointment only for your routine and urgent eye care needs! The Optometry Department vision care team is dedicated to providing high quality eye care and products to best fit your visual needs while keeping your safety and well-being a top priority during this pandemic. The optometrists are highly experienced in providing precise glasses and contact lens prescriptions as well as detecting and treating eye diseases such as dry eyes and red eyes. The eyewear collection is passionately cultivated by our optical staff to ensure you receive the most stylish and functional glasses to help you look and feel your best.
The Student Health Optometry Department has been in operation since February 1975. Because the department is non-profit, services are provided to students at low cost. Our mission is to facilitate the retention, academic advancement and graduation of UC San Diego students by maintaining their maximum eye health. View information about our Optometrists.
Make an Appointment
Schedule your comprehensive eye exam by logging onto MyStudentChart > Click on visits > Schedule an appointment > Choose Comprehensive Eye Exam
To place an order for glasses/contacts or schedule a glasses/contact lens order pick-up, call the Optometry Department at (858) 534-2602. If you have questions, email us at SHS-Opto@ucsd.edu.
Hours
| | |
| --- | --- |
| Monday | 8:00 am - 4:00 pm |
| Tuesday | 8:00 am - 4:00 pm |
| Wednesday | 8:00 am - 4:00 pm |
| Thursday | 9:00 am - 4:00 pm |
| Friday | 8:00 am - 4:00 pm |
Closed for lunch 12:00 pm to 1:00 pm
Please note: Optometry will be closed on university holidays.
Services
Urgent Medical Office Visit
Dry Eye Evaluation
Comprehensive Eye Exam
Contact Lens Evaluation
Ordering of contact lenses with a valid prescription
Ordering of glasses with a valid prescription




Forms
Authorization to Release Optometry Information (PDF)
If you would like your optometry records sent to another facility, download the authorization form and FAX to our office (858) 534-4749.
COVID-19
Your safety and well-being are our top priority.  To minimize risks for staff and patients and ensure social distancing, we have established safeguards in our facilities.  
Patients are advised to come alone to their appointment.
All patients and staff are screened for symptoms when entering the clinic.
All patients and staff are required to wear a face mask in public areas of the clinic.
Plexiglass shields have been installed in registration areas.
We are limiting the amount of people in the clinic at any one time.
We understand that the COVID-19 pandemic creates an evolving environment, so procedures will be adjusted as needed. We are deeply committed to the safety of our patients and staff and want to ensure that patients feel comfortable coming in for their care.
Ours doctors recommend that you get your eyes examined once a year. Comprehensive eye exams can detect not only vision problems, but also certain health conditions.
Once a year.
Vision benefits included in UC SHIP expire on July 31st and renew on August 1st every calendar year. Benefits included but aren't limited to:
$120 allowance towards frames OR contact lens supply
$10 for an eye exam
If you haven't taken advantage of your vision benefits yet, do not let them go to waste! Call SHS Optometry at (858) 534-2602 to schedule an appointment for an eye exam or to order glasses/contacts.
Yes!
Urgent/emergency eye care is needed for situations that need immediate attention. The situations include:
Painful red eye
An injury to the eye
Flashing lights
Sudden loss or a reduction in vision
Sudden onset of double vision
Chemical(s) in the eye
Head injury that causes changes in vision
New onset of floaters
An increase in floaters
Foreign material stuck in the eye
Eye infection
Dislodged contact lens
If you are experiencing any of the above, contact us immediately at (858) 534-2602 to schedule a medical office visit. With UC SHIP, medical office visits are completely covered ($0 copay).
For first time contact lens wearers, a contact lens exam and first time contact lens training appointment must be scheduled. At your scheduled exam one of our doctors will fit you with a contact lens that will best fit your needs and lifestyle. The contact lens training is a one on one training where one of our highly skilled team members will teach you how to safely and properly insert and remove contact lenses, as well as educate you on the proper care and cleaning of contact lenses.