Physical Activity
Physical activity is one of the best things you can do in your daily routine to live a healthier lifestyle and improve your overall well-being! In addition to proper nutrition, physical activity can have many health benefits, including:
Prevent chronic diseases such as heart disease, cancer and stroke
Promote strong bones and muscles
Improve sleep
Increase energy and self esteem
Relieve stress
GetUp Tritons
The news is out, sitting is not good for your health. It's easy to sit at your desk for hours without moving. Don't worry, UCSD Recreation has a solution! Subscribe to "Get Up Tritons!" for a reminder to get up and move! 
Daily emails are sent at 10am and 2pm to provide instructional exercise videos you can do from the comfort of your desk, lab or office. Fitness instructors will teach you how to reverse the negative effects of sitting--all for free!
Fitness Guidelines
In 2018, the Department of Health and Human Services released the 2nd edition of Physical Activity Guidelines for Americans.  The key guidelines for adults include:
Move more and sit less throughout the day.  Some physical activity is better than none.  Adults who sit less and perform any amount of moderate to vigorous physical activity gain some health benefits.
Try to do at least 150-300 minutes of moderate intensity, or 75-150 minutes of vigorous intensity, or a combination of moderate/vigorous activity each week.  Preferably, this aerobic activity should be spread throughout the week.
Engage in physical activity beyond 300 minutes each week to gain additional health benefits.
Do muscle strengthening activities of moderate or greater intensity that involve all major muscle groups on 2 or more days each week for additional health benefits. 
Your physical activity does not have to be limited to gym time - try these activities as well: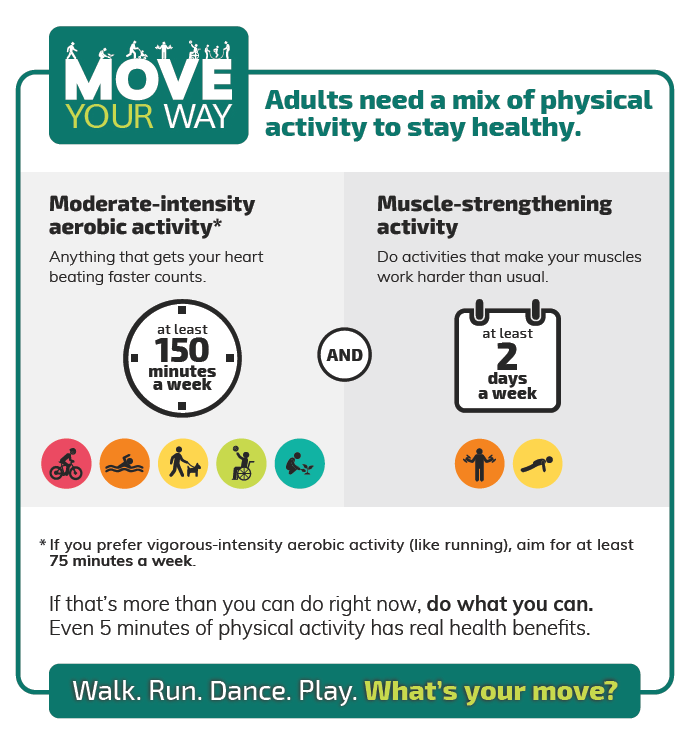 Walking briskly
Dancing
Bicycling
Rock climbing
Kayaking
Swimming
Hiking 
Yoga
Need more ideas to meet the physical activity recommendations?  Check out the following resources:
Sources:
U.S.Department of Health & Human Services retrieved from: https://www.hhs.gov/fitness/be-active/importance-of-physical-activity/index.html
Physical Activity Guidelines for Americans, 2nd Edition, 2018 retrieved from: https://health.gov/sites/default/files/2019-09/Physical_Activity_Guidelines_2nd_edition.pdf